Max Zorn live in Hong Kong
Tape artist Max Zorn is invited by Sovereign Art Foundation to Art Basel Hong Kong to create live in front of thousands
In 2012 Max Zorn was invited by the Sovereign Art Foundation (SAF) to perform live and create a beautifully intricate tape artwork for Art Hong Kong (now Art Basel Hong Kong). The proceeds of his work — auctioned just days after completion — went to the foundation for disadvantaged children in Southeast Asia.
Art Hong Kong is set in the Hong Kong Convention and Exhibition Centre, where over 60,000 visitors come to view contemporary art from 266 galleries were showcased, representing a whooping 38 international territories. Widely acknowledged as an important platform for networking in the international community, Art Hong Kong brought together leading collectors, curators, artists and galleries from across Asia and the rest of the world.
The Sovereign Art Foundation (SAF) participates in a wide range of shows in Hong Kong including Art Basel, Affordable Art Fair and Art Central. Over the past 12 years, SAF has raised and distributed more than US$5 million to support a variety of art-based programs for children throughout Asia. The charity exercises a well-defined twin focus: to recognize the growing wealth of contemporary art talent in Asia, and bring the proven benefits of art therapy to underprivileged children.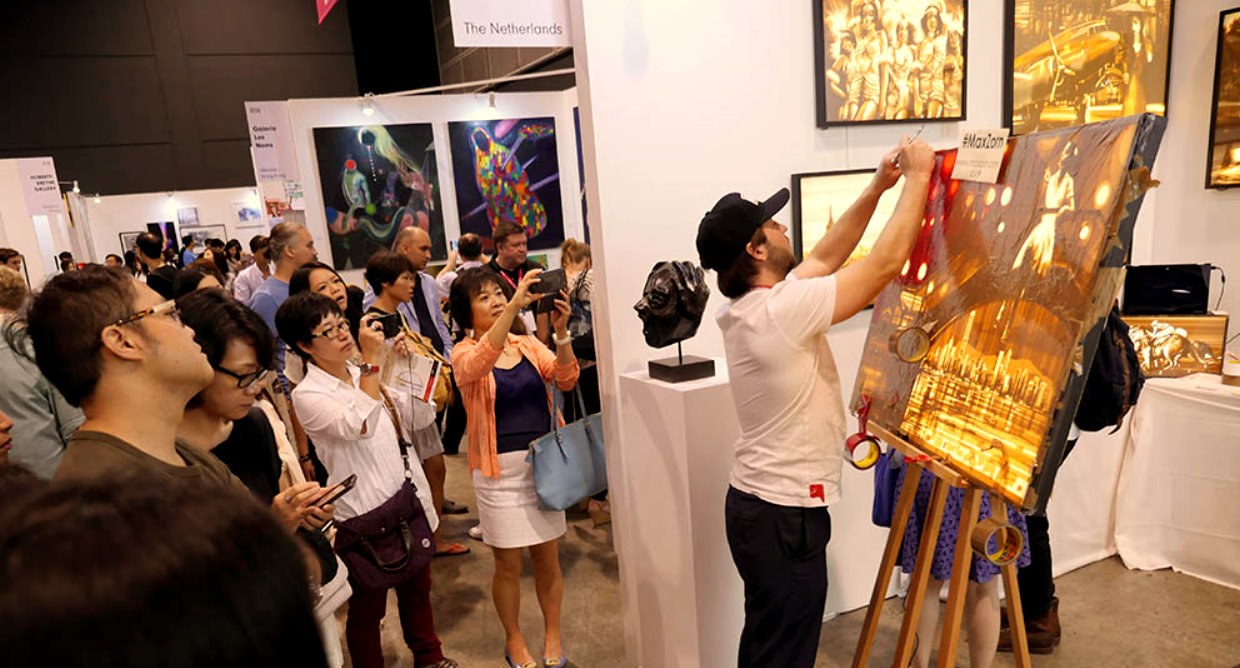 "Just when you thought that art couldn't get more creative, street artist Max Zorn throws you a curve ball." – Lifestyle Asia. Above, Zorn creates live at the Hong Kong Convention Center for AAF Hong Kong.
In the Press:
CNN Travel, 10 reasons art lovers should visit Hong Kong right now, by Payal Uttam
ArtInAsia.com, "The Sovereign Art Foundation at ARTHK12 is proud to present Max Zorn"
---
Comeback to Hong Kong brings CNN introduction to Asian market
Back in Hong Kong, Max Zorn and the Stick Together Gallery exhibited at the Affordable Art Fair Hong Kong in May 2015 and welcomed over 28,000 people in one of the largest venues in the city — the world-famous Hong Kong Convention and Exhibition Center (HKCEC) — where Art Basel is held annually. From seasoned collectors to first-time buyers starting their love affair with art, over 135 local and international galleries representing emerging and established artists including Damien Hirst, Anish Kapoor, Fan Ho, Toko Shinoda and Jacky Tsai among others.
Max's present led him to coverage by CNN and Lifestyle Asia. The Stick Together Gallery was a proud international name to be included in the 100+ galleries exhibiting and selling in the center of the Asia art market. There truly is no other place as the forward-thinking, buzzing and bustling Hong Kong.
Find out more about Affordable Art Fair at www.affordableartfair.com/hongkong.
In the press:
CNN Travel, 10 reasons art lovers should visit Hong Kong right now, by Payal Uttam
Lifestyle Asia, "First Look: 10 Pieces Worth Buying at the Affordable Art Fair 2015" by Angelina Teng
Style by Asia by Guest Blogger on Affordable Art Fair Hong Kong
ECOZINE, "Affordable Art Fair 2015"
Jr Magellen, "Developing Jr's Art Taste: Affordable Art Fair Hong Kong" by article by Lizzie Livingston
The Peak (article presented by PressReader), "Part and Partner of Art"
Our Partners:
www.sovereignartfoundation.com